Chances are, your child is not getting the two ingredients that are crucial for helping students learn to read:
Phonemic Awareness Instruction and
Multi-sensory Treatment
Research shows that most students will continue to struggle with reading difficulties until these two elements are used for intervention.
Phonemic awareness.
Students with poor phonemic awareness show easily detectable symptoms. For example, they struggle with the sequence of sounds in words. They have trouble sounding out new words and often resort to guessing. They may also add, omit, and reverse sounds when reading.
According to the National Institute of Child Health and Human Development:
Of children who display reading problems in the first grade, 74% will be poor readers in the ninth grade and into adulthood unless they receive informed and explicit instruction on phonemic awareness. Children do not mature out of their reading difficulties.
See also: International Dyslexia Association and the Arizona Branch
Many schools still do not teach phonemic awareness. Phonemic awareness must exist or be explicitly taught before phonics instruction begins. Otherwise, phonics will not make sense to most children with reading difficulties.
Multi-sensory treatment.
Research shows that most students will continue to struggle with reading, spelling and comprehension until a multi-sensory method is used for intervention.
Children with reading and spelling difficulties learn best by using several senses. We teach students the speech therapy based Lindamood-Bell® method, which is a new way to process letters and sounds. It's kind of a two heads are better than one approach to reading.
Our strong, multi-sensory learning method makes sense to students where many other methods have not.
* Lindamood-Bell ®. Lindamood-Bell ® is a registerd trademark of Lindamood-Bell Learning Process of San Luis Obispo, CA. The Reading Clinic is not affilliated with or sponsored, accredited, certified or endorsed by Lindamood-Bell Learning Process.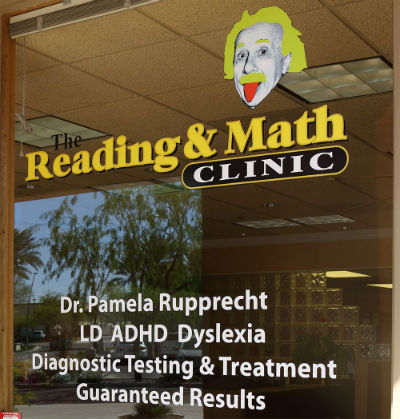 CONTACT US TODAY FOR
A FREE SCREENING
Free Dyslexia Screening by appointment only
WHAT: Reading screening for children ages 5 to 15 for reading processing deficit
WHEN: Monday through Thursday
WHERE: The Reading Clinic
1840 E. Warner Road Suite 119
Tempe, AZ 85834
(NE Corner of Warner & McClintock, behind Dunkin' Donuts)
RSVP: Dr. Pamela Rupprecht
Participants must register.
Testing takes approximately 15 minutes.