Students need help with their ability to visualize letter patterns in words.

Students need help with their ability to image concepts (comprehension).

Students need help with their ability to process phonemes or speech sounds.
WARNING SIGN
Students need help visualizing letter patterns in words if they:
Can't remember words from one day to the next.
Must sound out the same word each time they try to read it.
WARNING SIGN
Students need help understanding concepts (comprehension) if they:
Have to reread material several times and often remember only a few details rather than the "whole"
Have trouble expressing their thoughts in an organized manner (orally or in writing) or
Have trouble comprehending oral language and are often labeled poor listeners.
WARNING SIGN
Students need help processing phonemes or speech sounds if they:
Add, omit, and switch sounds while reading and spelling (read or spell "gril" for "girl," or "subtute" for "substitute")
Memorize words and are not able to effectively read a non-memorized word
See the first letter of a word and say another word with similar letter composition ("mike" instead of "milk," or "apples" instead of "applause")
Rely heavily on pictures to read a story (young readers)
Try to attack a word as a whole instead of seeing its individual parts (e.g., can't see the familiar suffix "tion" in the word "station")
Don't know the rules of written language or how to apply them
Avoid reading, especially aloud.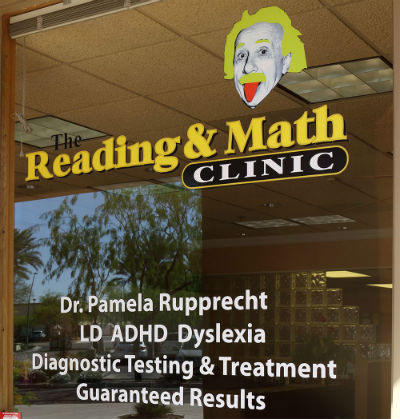 CONTACT US TODAY FOR
A FREE ONLINE SCREENING
Free Dyslexia Screening by appointment only
WHAT: Reading screening ages 5 to 15
WHEN: Monday through Thursday
WHERE: 1840 E Warner Rd, Tempe
Contact: Dr. Pamela Rupprecht
Participants must register.
Testing takes approximately 25 minutes and a phone conference about results follows.